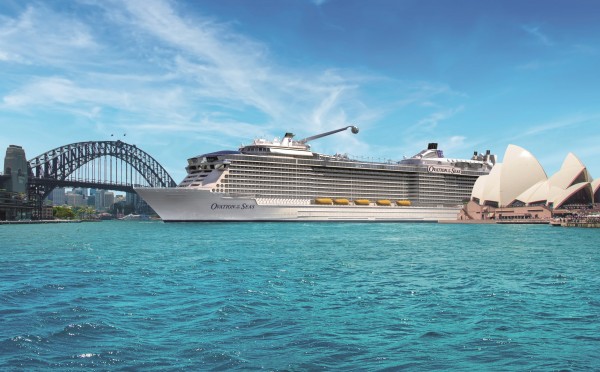 The largest cruise ship in Australia will arrive in the peak summer season from December 2016. Royal Caribbean International will add this – the Ovation of the Seas –  to its current fleet after it has completed its construction in Germany at a cost of US$1b. "It will be the first time any cruise line in the world has home ported a brand new ship in Australia", said Gavin Smith, regional vice-president, Royal Caribbean, Asia Pacific. The Quantum Class megaliner will be able to carry about 5,000 guests and 1,500 crew, and is the most technologically advanced. These include skydiving onboard a cruise ship via the Ripcord by iFly, or have panoramic views of landmark sights from the North Star aerial observatory. Guests enter a jewel-like capsule, and a robotic arm elevates them high into the sky. Bionic arms will create your perfect cocktail at the Bionic Bar, mixing in perfect time to the tunes played by the resident DJ. Two70 will provide guests with endless entertainment created using robotic video-screens, digital projection, combined with the skills of aerialists and performers. Stay connected with high speed WiFi, use radio frequency wristband technology in place of a key, and book onboard experiences via the dedicated app Royal iQ.
The Ovation will also feature the largest indoor sports and entertainment complex at sea, with bumper cars, roller skating, circus school and more activities to keep guests continually entertained. What is perhaps most astounding is that Quantum Class is still more energy-efficient, with the clever hull configuration, engine designs and the latest high efficiency systems and appliances. Fuel consumption and sulfur dioxide emissions will also be greatly reduced.
Register your interest here to be updated with her sailings.