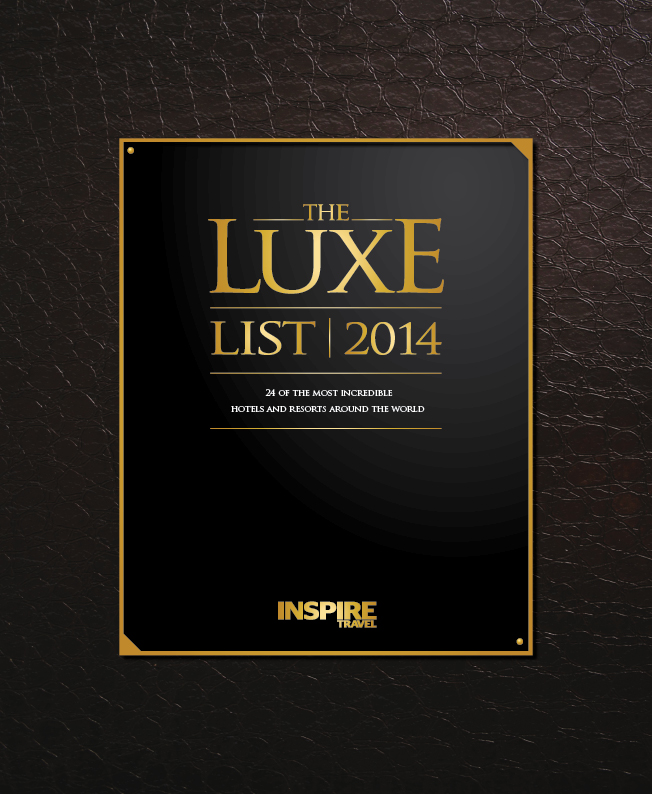 Revealing our 24 picks of the best hotels and resorts around the world 
BEST WEDDING DESTINATION HOTEL
Winner: The Resort at Pelican Hill, USA
The Experience: Set on the Californian coast, The Resort at Pelican Hill is designed in 16th century Palladian architecture. Its facilities are able to accommodate up to 500 guests at the Mar Vista.
Must Try: The white truffle available at the Andrea restaurant from October to December. These can be paired with butter and cheese or anything else you prefer. One guest reportedly enjoys the paper-thin shavings (shaved right at the table) on a scoop of vanilla ice-cream.
Attention to Detail: Only one wedding is held per day at Mar Vista to ensure the fullest attention is given to each couple's soirée. The dedicated wedding butler will work with the resort's wedding concierge to ensure that everything is handled smoothly. The staff has been able to accommodate all kinds of requests such as providing six different bottles of wine detailing a story of each decade for a couple's 60th anniversary, or baking flourless chocolate cakes for a birthday party. Guests will undoubtedly be pampered here, be it travelling to the sister property to get clubfitted or exploring Newport Beach onboard an 18ft Snug Harbour together with wine, fruit and cheese.
Star Spotting: The resort has been visited by celebrities like Eric Dane, Sofia Vergara and Rihanna. In addition, Michael Vartan and Lauren Skaar and Ian Ziering and Erin Ludwig were married here.
The Price Point: The 3,581sq ft Ocean Four Bedroom Villa, furnished with Sub-Zero refrigerators, Wolf Ranges with cook tops and a 60in flat screen television will cost about US$1,209.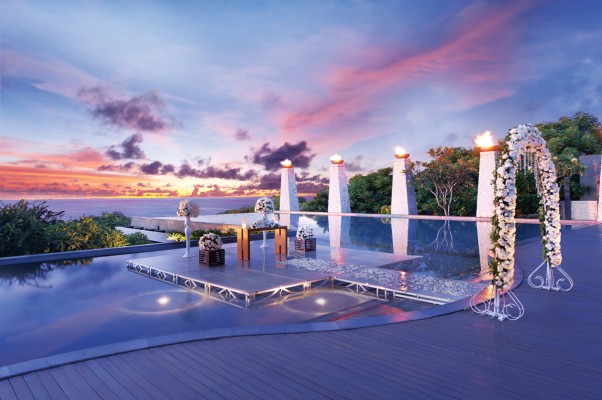 Runner Up: Banyan Tree Ungasan, Indonesia
The Experience: Perched on cliffs, the resort is 70m above sea level on Bali's southernmost peninsula, with quick proximity to the stunning Uluwatu Temple. Its wedding venues include the main pool, the villas and by the Ju-Ma-Na-Bar Terrace. The wedding packages would include a decorated buggy, a choir for the ceremony and two nights in the Pool Villa Sea View.
Must Try: The resort's signature Royal Banyan treatment, using East and West techniques and a herbal pouch dipped in warm sesame oil.
Attention to Detail: After the wedding, couples can be pampered with a wide range of luxuries, starting with a cliff edge destination dining experience at a bale pavilion on the cliffs, with the Indian Ocean below.
Star Spotting: International artiste Anggun performed at the resort during its opening.
The Price Point: The wedding packages are priced from US$2,500 up to US$7,000.
TOP SERVICED APARTMENT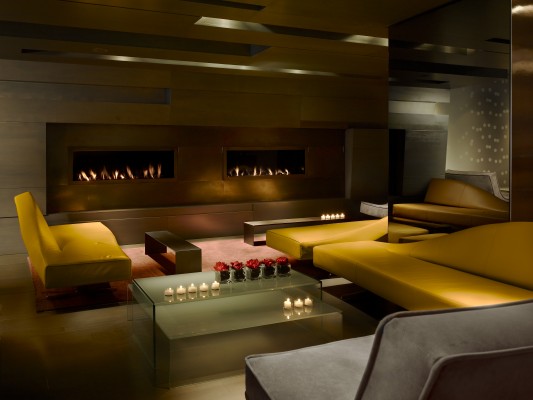 Winner: AKA Central Park New York, USA
The Experience: The AKA Central Park New York enjoys prime location in the city, just one block away from the entrance of Central Park. The facilities in the serviced residences are comprehensive, including a fitness centre, residents-only lounge and private access to the café. The residences meanwhile are furnished with the best from notable brands, including a Miele convection oven, Sub-Zero refrigerator drawers and a 440-bottle, floor-to-ceiling vodka vault.
Must Try: Wine tutorials or lifestyle courses arranged by the staff. Dine on the serviced residence's a.cafe's menu, featuring bagels with smoked salmon, three-egg omelettes, organic loose-leaf teas and single-estate, direct-trade organic coffees.
Attention to Detail: Tickets, restaurant reservations and other services can be arranged even before you arrive at the serviced residences. Spaces throughout the property can be customised to suit guests' business meetings or social gatherings. Previous business travellers have shared that the ultimate experience is enjoying an AKA signature Moscow Mule made from AKA's private label vodka. Each of the three penthouses is clad in limestone, with a master bath and spa shower – rain showerhead and steam shower. The penthouses also feature 1,500sq ft wraparound terraces with metalclad wood burning fireplaces for gorgeous views in three directions. Its interiors are thoughtfully designed to conceal laptop work stations and the mini-kitchen when not in use.
Star Spotting: Celebrities like Shannen Doherty and Maria Menounos have stayed here.
The Price Point: The Penthouse Suite will cost about US$1,295 per night.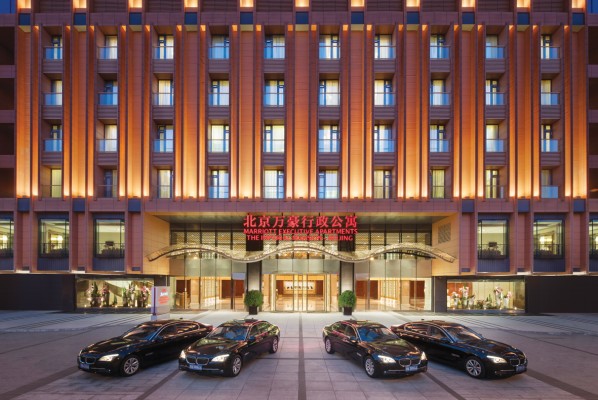 Runner Up: The Imperial Mansion, Beijing Marriott Executive Apartments, China
The Experience: One of Beijing's newest additions, these executive apartments are the largest in the area and are near to famous attractions like the Imperial Palace, the Palace Museum and the Tian'an Men Square.
Must Try: Complimentary fitness classes in the onsite fitness centre. Guests will have free access to the inside pool and gym.
Attention to Detail: Host receptions for up to 80 guests in the 1,938sq ft event space, outdoor terrace, private Resident Lounge or children's birthday parties at the Kids Room. Each apartment is fully equipped with an in-room washer, walk-in closet, kitchen, silverware and dishwasher.
Star Spotting: The Imperial Mansions has welcomed certain renowned dignitaries attending the APEC 2014 SOM 3 meetings.
The Price Point: Book the 228sqm Three Bedroom Larger Apartment for about US$814 per night.
FINEST BUSINESS HOTEL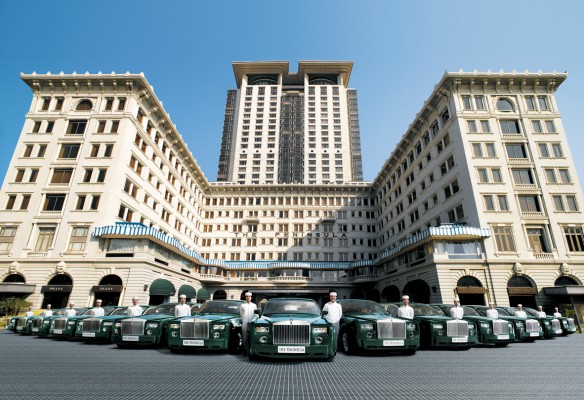 Winner: The Peninsula Hong Kong, China 
The Experience: Hong Kong's oldest hotel, the 'Grand Dame of the Far East' was built in 1928, and sits on Salisbury Road in Kowloon. Reach the hotel in style in a 1934 Rolls-Royce Phantom II, 14 Rolls-Royce Phantom Extended Wheelbase vehicles or two MINI Cooper S Clubmans.
Must Try: VIP guests will enjoy a luxurious adventure (about US$21,935 for five persons) by private helicopter, yacht and Rolls-Royce as well as a superb banquet on the idyllic Millionaire's Bay. After which, hold meetings in the private cinema or dedicated meeting room. Leisure excursions might also include a caviar connoisseurship class, or a journey to visit artisanal craft workspaces.
Attention to Detail: Other arrangements might include an arrival for VIPs via helicopter, a hip hop lion dance troupe greeting and themed dinners. These might feature a Chocolate Factory set up, with an array of chocolates, truffles and cookies, perfectly matching the décor. This would end with a French-themed dinner and can can dance.
Star Spotting: The hotel has been visited by numerous celebrities, as recorded in the Peninsula Treasury. They include Jane Fonda, Kirk Douglas, Gene Hackman, Paul Anka and The Supremes.
The Price Point: The Salisbury Room can accommodate up to 150 persons and meeting packages (a full-day meeting package costs US$114 per person) will include the aforementioned complimentary helicopter ride.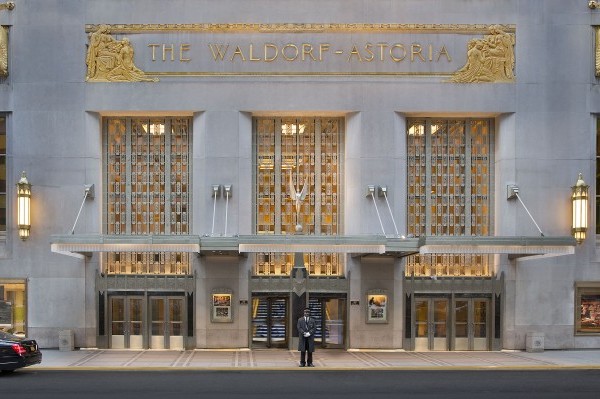 Runner Up: Waldorf Astoria New York, USA
The Experience: The Presidential Suite at the Tower Suites in the 'hotel within a hotel' in the famed Waldorf Astoria New York has hosted nearly a century's worth of US presidents since Herbert Hoover. The Suite has been designed to resemble the White House with traditional Georgian-style furniture, with the personal desk of General Douglas MacArthur and one of President John F Kennedy's rocking chairs.
Must Try: Host your meetings in the Presidential Suite, with its dramatic foyer, large parlour and the dining room that seats 10. Alternatively, wine and dine your business guests at the Waldorf Astoria Bar.
Attention to Detail: The Towers has an exclusive check-in lobby, high-level security and private entrances, and access to the Waldorf Astoria's theatre desk, limousine service and the Guerlain Spa.
Star Spotting: Frank Sinatra, Queen Elizabeth and Cole Porter are just some of the Waldorf's list of illustrious guests.
The Price Point: The Presidential Suite may cost up to US$10,000 per night.
Winner: Legend Golf and Safari Resort, South Africa
The Experience: The Legend Golf and Safari Resort sits among 22,000ha of the most beautiful scenery, where guests can view the Big 5 roaming around. Aside from its legendary golfing, it's also a sporting haven for football, rugby, cricket and athletics. It has won Africa's Leading Golf Resort at the World Travel Awards in 2013.
Must Try: Tee off on the highest and longest par 3 – the Extreme 19th – in the world, accessible only by helicopter. A Tribute golf course has also been built on the resort, recreating the world's most famous par 3s. Do take a swing on the Signature course, designed by some of the world's best golfers. Alternatively, get an aerial view of the compound and its surroundings in a 6 or 12min helicopter ride.
Attention to Detail: Your caddy rangers are not only knowledgeable about the golf course, but also about the flora and fauna around the Signature Course, as they have undergone training at the Entabeni Nature Guide Training School. Additional amenities include two clubhouses and a golf academy that has a unique approach to learning.
Star Spotting: Renowned golfers include Gary Player, Padraig Harrington, Trevor Immelman, Sergio Garcia and Retief Goosen. These, plus Colin Montgomerie, Vijay Singh, Bernhard Langer and Justin Rose have also designed a hole each on the Signature course.
The Price Point: A Luxury Room will cost about US$1,666 per night including two game drives. Guests who wish to tee off on the 19th hole will pay about US$452.
Runner Up: The Ritz-Carlton Kapalua, Hawaii, USA
The Experience: This golf course built on a 23,000ac historic pineapple plantation is the PGA Tour's season opening site for the Hyundai Tournament of Champions. Professional golfers can tee off on two 18-hole golf experiences designed by the renowned Coore/Crenshaw, Arnold Palmer and Francis Duane.
Must Try: Golf's most dramatic holes, the par 4 fourth and par 3 fifth. Otherwise, pit your skills against other golfers at the HyundaiTournament of Champions in January 2015.
Attention to Detail: The courses are certified by the Audubon Cooperative Sanctuary Program. The resort's Kapalua Golf Academy is also one of the best golf schools in the US. Offering on-course instruction for one or multiple students, golfers will be taught by only the best – award-winning PGA professional instructors.
Star Spotting: Players have included Adam Scott and Zack Johnson.
The Price Point: The Royal Pacific Suite costs up to US$11,000 per night.
BEST FAMILY HOTEL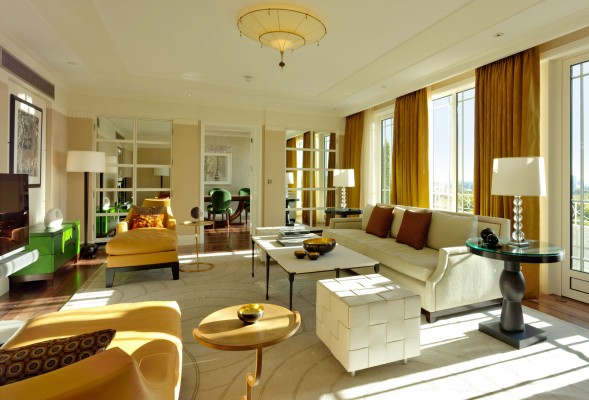 Winner: The Dorchester, UK
The Experience: The Dorchester wins our vote because of the sheer lengths it goes to ensure that little VIPs have everything they need to make their stay (and their parents') an effortless and enjoyable one. This begins from the children's menus that are available in The Promenade, The Grill and in-room, paired with children's crockery, baby menu, 24h room service, high chairs, activity and colouring books.
Must Try: The hotel's concierges can arrange for children's activities like Glamping accompanied by bespoke tents and Beatrix Potter patterned fabric. Other activities could include tennis, boating and horseback riding. Alternatively, children will be delighted by the Meet the Chef, Princess for a Day or Doorman for a Day experiences.
Adults will not be left out of the fun as they can enjoy an indulgent spa treatment paired with healthy options for afternoon teas in the Spatisserie or dine in the three Michelin-starred Alain Ducasse atThe Dorchester.
Attention to Detail: In addition, children will be welcomed with freshly baked cookies and a gift pack, while the rooms will be stocked with children's books and board games, family DVDs and CDs, a Nintendo Wii and Playstation. Amenities like bottle steriliser, crib, cot, high chair, baby bath, microwave and bottle warmer can also be provided in rooms.
Star Spotting: Famous guests include Queen Elizabeth II, Elizabeth Taylor, Richard Burton, Sultan of Brunei, Alfred Hitchcock and Barbara Streisand.
The Price Point: The Family Time package will cost about US$4,391 for suite stays.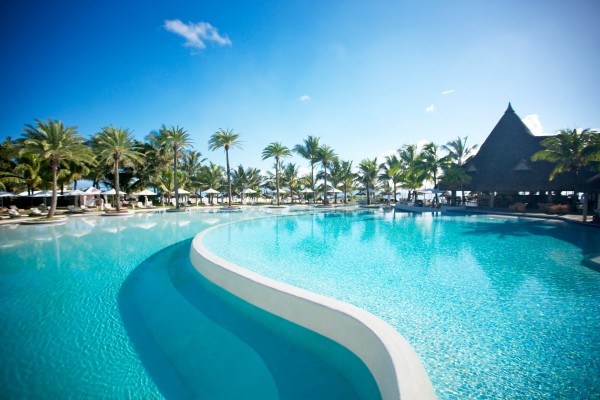 Runner Up: LUX* Belle Mare , Mauritius
The Experience: Hidden away in a tropical garden setting on the Belle Mare island in Mauritius, each of the thatch-roofed suites and villas in the LUX* resort is blessed with sea views.
Must Try: PLAY focuses on high-energy sports and outdoor activities, art classes and treasure hunts for children from 3 to 12. Teenagers can hang out at Studio 17, their meeting point to explore the island, learn the local dances and languages. Adults can tee off on one of three golf courses, swim with dolphins or go fishing.
Attention to Detail: LUX* has arranged for teens and tots to enjoy the same treatments as their parents with chocolate scrubs, wraps and fruity massage oils. Delight the young and old with a ride in the 1933 vintage Rolls-Royce.
Star Spotting: Celebrity guests include Miss France 2013 Marine Lorphelin and South African cricket player Faf du Plessis.
The Price Point: The all-inclusive package for a 255sqm Prestige Villa will cost about US$2,275.
MOST LUXURIOUS HOTEL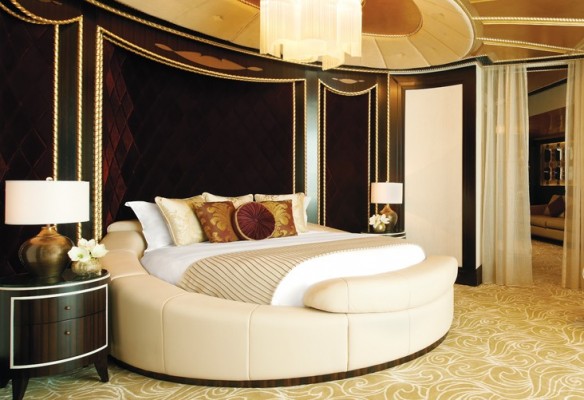 Winner: The St. Regis Abu Dhabi, UAE
The Experience: Arrive via the hotel's helipad through an exclusive VIP entrance and then access the Nation Riviera Beach club from the hotel's main building by the private, air-conditioned tunnel, all within the expanse of the luxurious The St. Regis Abu Dhabi hotel.
Must Try: Ladies can work out in relative privacy in the female-only exercise rooms. A slew of beauty treatments are also available at the Sisters Beauty Lounge, including nail enhancements, eyelash treatments and signature Kerastase rituals. Alternatively, sport aficionados can race around the Yas Marina Formula One track, play polo on the Ghantoot Racing and Polo Club or tee off on the Saadiyat Beach Golf Course.
Attention to Detail: Stay in the Al Honsen Suite on the 49th floor, furnished with a water-jet cut stone medallion of White Carrara marble and limestone, a crystal chandelier and accent tiles made of laser-cut semi-precious stones. Regular St. Regis travellers will have their preferences memorised and materialised in their suites, while the butlers can cater to special requests like chartering private transport to go to the neighbouring Yas Island, Saadiyat Island and Bu Tinah Island to visit museums or spot bottlenose dolphins.
Star Spotting: Michelin-starred chef Gary Rhodes helms the Rhodes 44 restaurant. He has cooked on almost every continent for royalty, the Jordan Formula One team, Manchester United and the late Princess Diana.
The Price Point: The Al Honsen Suite starts from US$5,445 per night.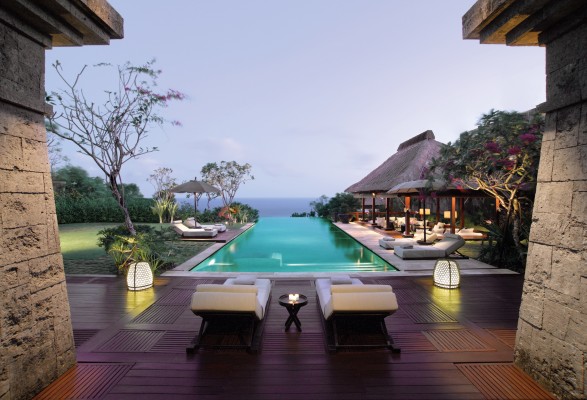 Runner Up: Bulgari Hotels & Resorts Bali, Indonesia
The Experience: Located 150m above the sea, with gorgeous views of the Indian Ocean, The Bulgari mixes a fantastic vantage point with the best of dedicated service and designer furnishings.
Must Try: Shop at the island's only Bulgari boutique within the resort, lounge on the resort's private beach, and enjoy an indulgent 3h Bulgari Royal Lulur for Two at the Bulgari Spa, which also features the best of ESPA treatments.
Attention to Detail: The Bali butlers provide a discreet "invisible" service that might include sourcing 5,000 rose petals for a wedding within two hours, a truly challenging feat since most of the roses in Bali are imported.
Star Spotting: The resort was apparently the location for Yang Mi and Hawick Lau's wedding. Justin Bieber has also reportedly stayed at the resort.
The Price Point: Book the Bulgari Villa for your private functions with minimum stay of two nights at up to US$8,500.
MOST BLISSFULLY ROMANTIC HOTEL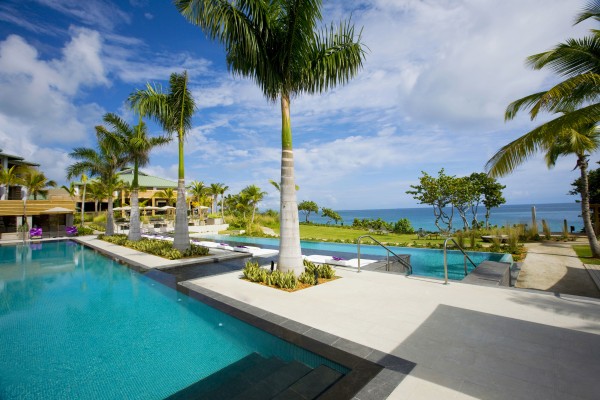 Winner: W Retreat & Spa, Vieques Island, Puerto Rico
The Experience: The hotel sits on an undiscovered Caribbean paradise, 8mi off the Puerto Rico's main coast, and is accessible via a 20min flight from San Juan International Airport. It is also home to the world's brightest bioluminescent bay at Puerto Mosquito, an incredible setting for any romantic trip.
Must Try: Begin your honeymoon with the romantic rendezvous package, that includes a four-course dinner for two at Sorcé, with US$150 credit at Away Spa and a sunset champagne toast. More active couples can go for the Bio Bay tours after sunset or set out on hiking or biking tours, kayaking and scuba diving expeditions.
Attention to Detail: Enjoy the best of the Whatever/Whenever® service that might include luggage forwarding, pillow customisation and private excursions throughout your stay. The pillow menu includes selections like a body pillow, firm foam Prima Loft Pillow or a 100 per cent goosedown feather pillow. Enjoy a romantic day out starting with chartering a private boat (about US$500 per half day) with Black Beard Sports. Explore the different reefs and more remote locations on a 22' Rigid Hull Zodiac or even go on a custom tour on horseback. End the day with an indulgent private five-course dinner (price upon request), with champagne and wine pairing in the ocean front spa courtyard.
Star Spotting: The resort has apparently hosted Ryan Philippe, Jaime Pressly and Mark Salling.
The Price Point: Book the 1,400sq ft WOW Ocean Front Retreat (about US$709 per night) with a private balcony or patio and direct access to the beach.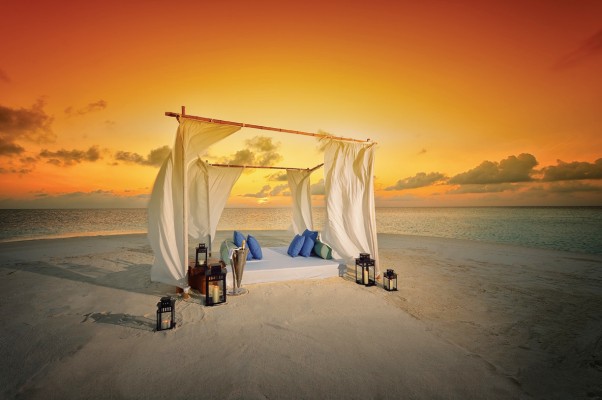 Runner Up: Jumeirah Vittaveli, Maldives
The Experience: The atmosphere of white sandy beaches, sparkling blue, exceedingly clear waters and personalised service will make your stay truly blissful. The Jumeirah Vittaveli resort occupies just one of 200 inhabited islands in the Maldives on Bolifushi Island on the South Male Atoll, with a private swimming pool in each of its villas.
Must Try: The Romance Package, which includes a private Sunrise Beach Breakfast and Romantic Dinner, an in-villa couples massage and luxury amenities upon arrival and departure gift.
Attention to Detail: Dine in decadence throughout your stay with different arrangements, such as a dinner in the main pool or a private barbecue dinner on a secluded sandbank. Enhance your romantic experience with specially drawn baths by the spa team, which can boost relaxation, inner peace, love and connection and cleansing.
Star Spotting: Guest celebrities include Malaika Arora Khan.
The Price Point : Book the Presidential Suite (up to US$4,100 per night), away from the main resort and accessible only by speedboat.
BEST HEAVENLY BEACH RESORT
Winner: The Ritz-Carlton, Grand Cayman, Cayman Islands
The Experience: The Ritz-Carlton, Grand Cayman is located on an archipelago for Cayman Brac, Little Cayman and Grand Cayman, tucked away in the western Caribbean Sea. It's a tropical paradise for water sporting enthusiasts, and those looking for the perfect beach getaway, with the famous Seven Mile Beach and its crystal clear Caribbean waters.
Must Try: Charter a 27' Boston Whaler for up to 10 persons for a full day private excursion to the waters off North Sound (about US$1,950). Explore the renowned Stingray City, a shallow sandbar that is excellent for stingray encounters. Alternatively, head underwater to a site just in front of the resort, renowned for its amazing coral reef ecosystem.
Attention to Detail: The oceanfront Ritz-Carlton Suite is equipped with a full bar setup of your personal favourite beverages, and exclusive Asprey bath amenities. The concierge team also prides themselves on creating indelible memories, whether it's a sunset cruise or arranging a surprise engagement. Even relaxing on the beach is a thoughtful endeavour, where the oasis cabanas are furnished with a DVD player, iPod and docking station, games, magazines, soft drinks and snacks to entertain guests throughout the day.
Star Spotting: The resort has been visited by one of Nick Bollettieri's protégés, Anna Kournikova, William Baldwin and Sheryl Crow.
The Price Point: Book the 2,400sq ft oceanfront Ritz-Carlton Suite (about US$5,800 per night).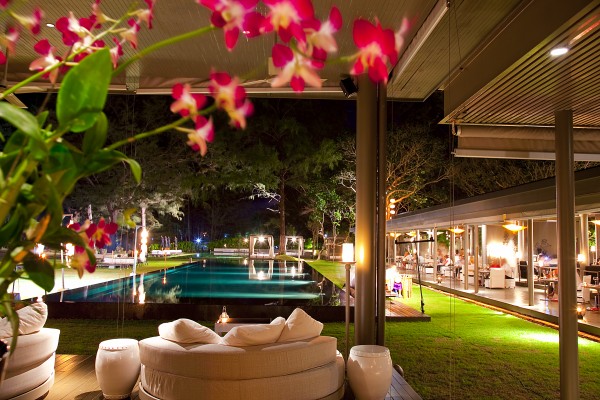 Runner-Up: Sala Phuket Resort and Spa, Thailand
The Experience: Although the resort is located on the popular Maikhao beach, the SALA Phuket Resort and Spa is an oasis of complete privacy. A staggering 63 out of 79 pool villas and suites have private swimming pools. For a truly heavenly stay, request for floral arrangements, bottles of Bollinger champagne (about US$263), activities and excursions.
Must Try: Dine on sumptuous Thai seafood on the rooftop (up toUS$167 for two), where tables 'float' on their own reflection pond and overlook panoramic views of the ocean.
Attention to Detail: Special requests will be honoured. Previous guests, accompanied by the Resident Manager, have actually purchased their own mattresses which have been stored for their return visits.
Star Spotting: Celebrity guests include South Korean actress Im SooJung and the Royal Granddaughter from the Thai Royal Family, Princess Sirivannavari Nariratana.
The Price Point: Book the Two Bedroom Presidential Pool Villa Suite at about US$700 per night.
MOST REJUVENATING SPA RESORT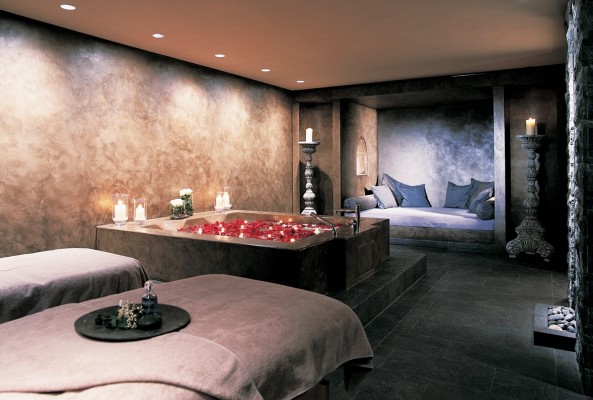 Winner: Gstaad Palace, Switzerland
The Experience: The Palace Spa's facilities span an impressive 1,800sqm, with eight treatment rooms, a Private Spa Suite, saunas, steam baths, indoor and outdoor pools, a gym, Pilates studio and a unique seven-room hammam experience. The comprehensive spa menu uses renowned brands like Sisley, Cinq Mondes, Jardin des Monts, Ivo Pitanguy and Eva J.
Must Try: Have a series of spa and beauty treatments in your own dwellings with the Palace Chalet Massage, a professional mobile massage service. Here, try the 80min chalet massage or the manicure and pedicure combo. For further relaxation, visit the hammam for a soothing footbath, a steam bath, a dip in the floatation pool and finally a hydrating oil massage. Retreat to the Walig Hut, 1,700m above the sea, with breathtaking views of the Gstaad and the Saanenland, for a chance to live like the farmers did in the early 1800's. The experience may also include a visit to the resort's private cheese maker.
Attention to Detail: In order to convey the feel of the mountain into the spa, more than 50t of rock sourced from the nearby Blausee region were assembled to form a 60m architectural marvel. Upon request, amenities like anti-allergy pillows and fax machines can be provided in-room. Guests can also book luxurious experiences, such as a wine tasting, or purchase mementoes like the Hublot GreenGo Bang watch.
Star Spotting: The resort has welcomed celebrities like Elizabeth Taylor, Paris Hilton, Queen of Thailand and Robbie Williams.The Price Point: For the ultimate indulgence, rent the palace for about US$55,006 per day for a minimum stay of two nights.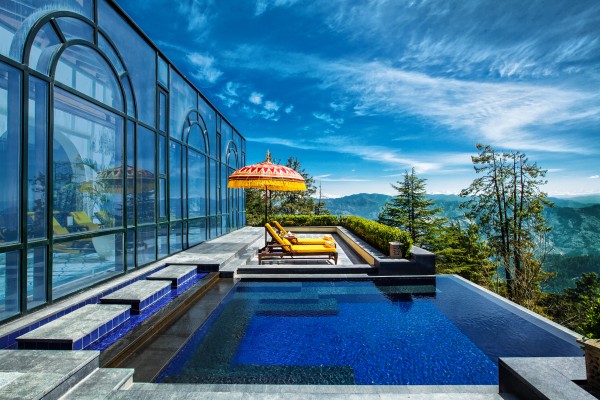 Runner Up: Wildflower Hall, Shimla In The Himalayas – An Oberoi Resort, India
The Experience: A perfect albeit remote wellness retreat is the Wildflower Hall, Shimla In the Himalayas – An Oberoi Resort, 8,250ft above sea level, with amazing vistas of snow peaks and cedar forests. The Oberoi Spa mixes Ayurvedic, Oriental and Western traditional holistic treatments.
Must Try: A 150min Himalayan Romance spa treatment includes a personalised blend of Indian spices for cleansing and purification, an aromatic steam bath and soothing massage. These are best enjoyed in private spa suites or pavilions.
Attention to Detail: The resort will arrange private yoga and meditation with a yoga instructor and a four-course dinner in Lutyens restaurant.
Star Spotting: Congress Party chief Sonia Gandhi and Bollywood stars like Saif Ali Khan and Kareena Kapoor have visited.
The Price Point: The Lord Kitchener Suite costs about US$1,233 per night.
MOST SCENIC HOTEL 
Winner: Jumeirah Port Soller Hotel & Spa, Spain
The Experience: The hotel enjoys cliffside views of the fishing village of Port Soller, surrounded by the Tramuntana mountain range, and sometimes even appears to be floating between the sky and the sea. To complement this scenery, each room has its own private balcony or terrace. Scented gardens are perfectly landscaped around the 11 buildings housing the 120 sea or mountain facing rooms and suites. The hotel's accolades include World Travel Market 2013's Exceptional Quality and Service.
Must Try: The Superlative Mallorca experience, where guests will travel in a Pro Sky-operated private jet from Dubai, Moscow or London, enjoy Talise spa treatments upon arrival, sail in a 1932 Goletta and dine on a private dinner cooked by their personal chef in their suite. The dinner will include delights like Iranian Beluga caviar, Soller prawns, lobsters and French oysters.
Attention to Detail: Definitely the best room to book, the Suite Es Port is a standalone casita or house that offers nearly 360˚ views of the surroundings. Enjoy breathtaking vistas of the night stars in the Observatory Suite, which contains an in-suite telescope. Travel around in a stylish chauffeured Mercedes ML or host an unforgettable event with elaborate ice sculptures, floral centrepieces perfectly matched to the colour scheme and even a live music performance.
Star Spotting: Jewellery designer Isabel Guarch has opened a store at the hotel, while PR-guru-turned-author Anna Nicholas launched her book here.
The Price Point : The Superlative Mallorca experience will cost about US$25,703.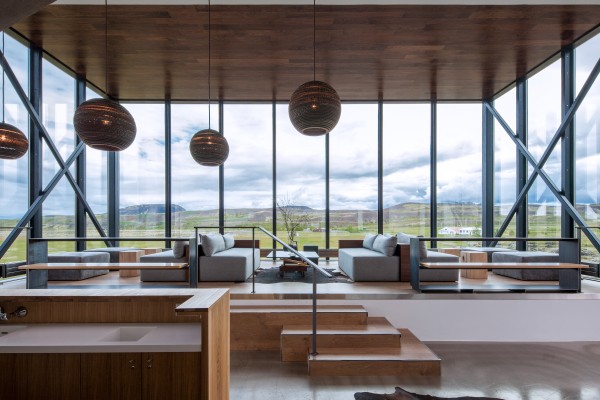 Runner Up: Ion Luxury Adventure Hotel, Iceland
The Experience : Sitting less than an hour's drive away from Reykjavik, the Design Hotels™ member boasts gorgeous views of the star-filled night sky, lava fields, Lake Thingvallavatn and the mountains, including the Aurora Borealis from September to March. Its proximity to the UNESCO World Heritage Site Thingvellir National Park provides easy access to all the attractions of the land of "fire and ice".
Must Try: Horse riding in Meðingi in Grímsnes for 2h. If travelling between September and March, take part in the Northern Lights Hunt, where you'll explore the lava field in a large super-jeep, dine on 350g lobster, and track down the Auroras in the Arctic skies.
Attention to Detail: The hotel has all-organic bedrooms, hypoallergenic beds, fair-trade organic linens, environmentally-friendly showers and even Sóley Organics soaps and lotions.
Star Spotting: Celebrity guests have included Led Zeppelin's Jimmy Page and Robert Plant.
The Price Point: The Deluxe Rooms cost about US$365 per night.
TRENDIEST BOUTIQUE HOTEL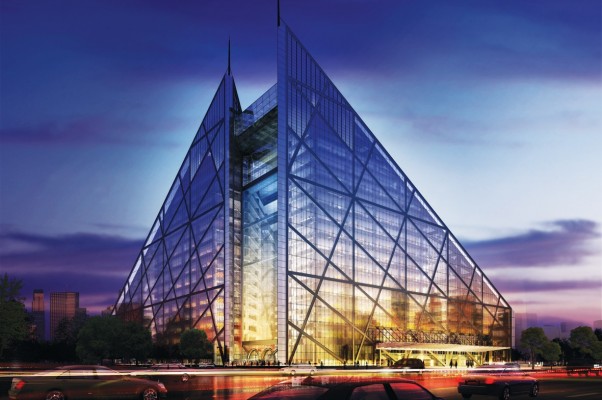 Winner: Hotel Éclat Beijing, China
The Experience: This luxurious Hotel Éclat Beijing hotel has been furnished with more than 100 pieces from Salvador Dali, Pierre Matter, Andy Warhol and Chinese leading and up-and-coming artists. It also contains the largest private Dali's art collection in China. Located on Parkview Green, it has just 100 rooms, of which 26 rooms and suites have their own Jacuzzi and an additional 20 suites have a private pool.
Must Try: Dine at Alfie's Beijing by Alfred Dunhill, featuring deluxe foosball tables, luxury Monopoly sets and chessboards and a glass pyramid. Feast on British classics like stick toffee pudding, fish and chips and cottage pies.
Attention to Detail: Other touches include Philippe Starck-designed desk chairs, Panasonic massage chairs, in-room bar with a full range of beverages and Riedel glassware and Miller Harris toiletries. Amenities also include a large Toto Jacuzzi bath, rainforest shower and the beds are adorned with six pillows, goose-down duvet and the best linen. The guests-only Éclat Lounge is a private space on the glass bridge serving all day treats. The hotel also provides technological assistance, concierge and butler services around the clock.
Star Spotting: Basketball star Yao Ming and Olympic gymnast Li Xiaopeng have been guests at the hotel.
The Price Point: Book the 128sqm Miami Suite (about US$6,680 per night) that has a 200sqm outdoor terrace and a 10m private lagoon. Additionally, the suite's spacious living room has a separate dining area that seats eight persons and features a 55in 3D television and a Bang & Olufsen system.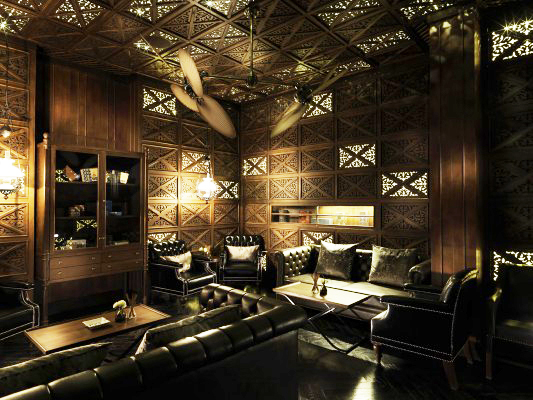 Runner Up: Hotel Muse Bangkok Langsuan, Thailand
The Experience: The hotel in Langsuan has close proximity to key places like Siam, Sukhumvit and Silom. Its décor blends heritages of the Rama V era of Siam and France, and playfully mixes the elegant and contemporary. It has a pronounced 1920's feel especially in The Speakeasy bar on the 24th and 25th floors and even has its own music collection.
Must Try: Have a drink at the Blind Pig by The Speakeasy or try the Rustic Wine Pairing at Medici.
Attention to Detail: The hotel has its own wine cellar with a wide range of wines and champagnes. End the night at The Speakeasy bar with a glass of celebratory champagne from the hotel's own private label (about US$123 per bottle).
Star Spotting: Michelin-starred chef Jean Baptiste Natali is currently bringing his grandmother's recipes with a twist to the Speakeasy Rooftop Bar.
The Price Point: The Muse Suite will cost about US$2,211 per night.
SWANKIEST GASTRONOMIC HOTEL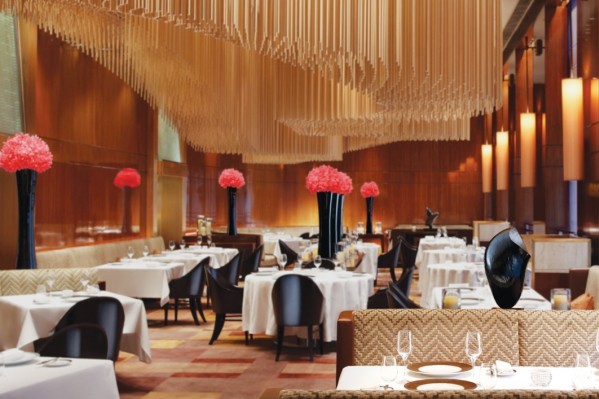 Winner: The Landmark Mandarin Hotel Hong Kong, China
The Experience: Renowned for the two Michelin-starred Amber, Culinary Director Richard Ekkebus's epicurean playground, The Landmark Mandarin Hotel Hong Kong wins our vote for the sheer amount of decadent details the restaurant has as well as the culinary masterpieces that's constantly delivered. Amber has also been on San Pellegrino's World's Best Restaurants List for an impressive four years. Its menus place importance on seafood, delivered from around the world, including Fukuoka and Hokkaido and even France.
Must Try: The ultimate indulgent getaway with the One LANDMARK – Infinity Experience which includes accommodation in the L900 Landmark Suite and hotel credits. Alternatively try the healthy choices from the in-room dining menu to help boost energy or aid weight management, served raw or slightly cooked for maximum nutritional value, paired with unsaturated fats and low glycemic index carbohydrates.
Attention to Detail: The private wine room that seats 12 is furnished with golden organza curtains, a plush geometric carpet, sparkling chandelier, Frette linen, Bernardaud china and Christofle stemware. The staff also created special chocolate chip and blueberry pancakes for Justin Bieber, who then ordered it the following two days for his whole team.
Star Spotting: The hotel has been visited by numerous celebrities, including Alicia Keys, Delta Goodrem, Wyclef Jean, Coldplay, Avril Lavigne and Sarah Brightman.
The Price Point: The five-course Platinum menu with wine pairing and the One LANDMARK – Infinity Experience are priced at US$500 and US$800 per person respectively.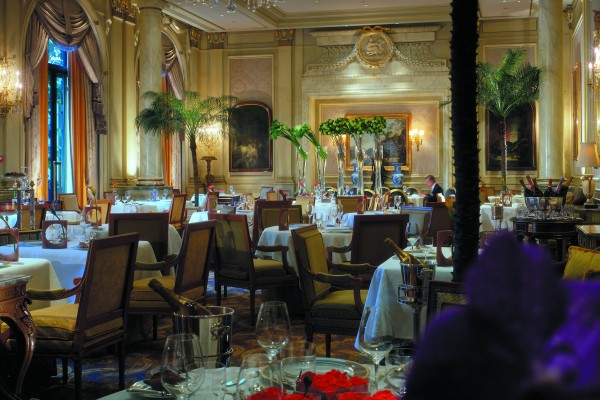 Runner Up: Four Seasons Hotel George V Paris, France
The Experience: Coming in close second is the Four Seasons Hotel George V Paris, with its two Michelin-starred Le Cinq, helmed by Executive Chef Eric Briffard. Its wine cellar, unscathed since World War II is one of the most well-stocked cellars in the city with about 50,000 bottles of wine.
Must Try: Visit the nearby Parisian food market together with Chef Eric to interact with his suppliers and vegetable growers, select the best produce, prepare and taste a dish, paired with a glass of champagne.
Attention to Detail: The restaurant has a range of traditional French and English furniture, including two Louis XIVth wardrobes and two Louis XVIth gold gilt chairs.
Star Spotting: Celebrities include Eva Longoria.
The Price Point: The Epicurean Escape for Dinner (about US$388 per person) will include dishes like the Trap Caught Blue Lobster, Rack of Milk-Fed Lamb and Caribbean Chocolate Ingot with Blackberries.