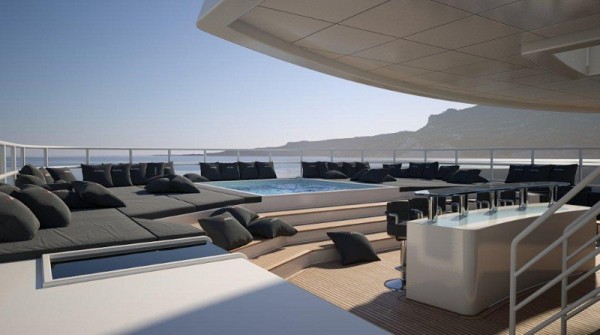 Revealing the illustrious list of the newest expensive superyachts  in the world.
---
Join multi-millionaires and celebrities like Roman Abramnovich, Richard Branson, Tiger Woods, Johnny Depp and Steven Spielberg in the illustrious world of owning your own superyacht. We reveal the most expensive newest superyachts that are currently on the market and some of the luxurious accessories that you can adorn your yacht with. All of the yachts have asking prices starting from just under US$60m and can be individually customised to suit the owner's preferences.
Glorious Releases
Modern Classic

Perhaps an oxymoron, the Project Nelson superyacht is a modern classic, with an exterior that decidedly resembles the traditional façade of ships in the early 20th century, sporting a dark blue hull with brown trimmings. Its interior however houses all the modern trappings and amenities. The owner of this superyacht, preferably one with a passion for all things quintessentially British, will be able to continue the interior design work to ensure it suits his classically English sensibilities.
In Brief: Touted to be released in 2017, it will be an 80.55m long vessel powered by Rolls-Royce diesel-electric engines, giving it a top speed of 17knots and a cruising speed of 12knots.
At Leisure: Its facilities should include a beach club spa that has bathing platforms and a large tender garage.
Most Notably: Renowned ship building firm Laurent Giles, which has hundreds of yachts in its repertoire, will be designing the superyacht.
Sleep: Up to 12 persons can be accommodated in its six guest cabins.
Own it: Currently at US$153m, it will be available for sale on OCEAN Independence.
Streamlined Design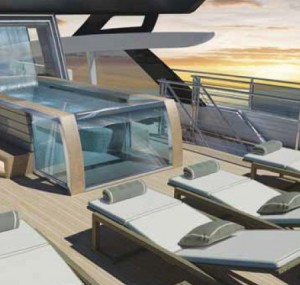 The Rossinavi's streamlined design creates a very broad aft narrowing to a sharp point at the bow, propelling the ship efficiently through the waters. Swathed in pristine white and tinted black windows, the ship is particularly conducive for lounging, watersporting activities or even just swimming in the pool.
In Brief: Launching in 2017, the 75m long Rossinavi, with a 13.7m beam has a maximum speed of 16.5knots and a cruising speed of 15knots. It was built by T4 Design by Enrico Gobbi in the shipyard with the same name in Italy.
At Leisure: There's space onboard for either a helipad or a communal area for guests. Preliminary plans indicate large outdoor seating areas for guests to mingle, as well as two potential pools.
Most Notably: The Rossinavi will likely be the shipyard's largest delivery after the 70m M/Y Numptia.
Sleep: The cabins will comprise one owner's deck, a VIP suite and four guest cabins.
Own it: It will be on sale for about US$102m from OCEAN Independence.
Private Space  


The luxury of having an entire deck to yourself can be a reality on this six-deck Proteksan-Turquoise NB55 ship. Andrew Winch Designs offers owners a choice to design the ship as a four-deck version, with a private Owner's Deck.
In Brief: Launching in 2016, the Proteksan-Turquoise NB55 yacht has a length of 76.2m, with a beam of 13m. It weighs a total of 1,950t and will run on two 2,447hp Caterpillar engines. The NB55 will be able to reach a maximum speed of 17knots and a cruising speed of 15knots.
At Leisure: The initial plans indicate ample space for a helipad, a large beach club and two tenders. Fittings could include a baby grand piano, bar space and a dining table that seats 12.
Most Notably: Proteksan-Turquoise has won the Quality and Value Award and the 2014 World Superyacht Awards for the Ileria.
Sleep: The yacht will be able to sleep 16 guests in eight guest cabins.
Own it: Its estimated asking price is about US$80m from Burgess Yachts.
Stellar Lineage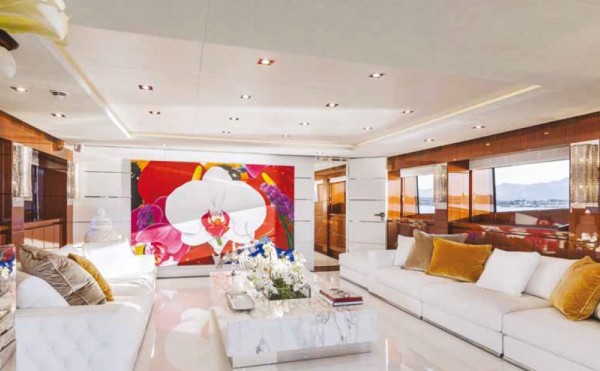 The 197' Holland Super Yacht Industries Semi Custom yacht, which begun its manufacture this year, will likely be ready for delivery in 2015. Its lineage is completely Dutch, from the marine engineering standards that it is engineered to. The steel hull is also constructed by Frank Mulder of the Dutch firm Mulder Designs.
In Brief: The 60m (or 197in, hence the name) yacht will have an 11.8m beam and a 1,937hp twin diesel Caterpillar engines, enabling it to reach a max speed of 17knots and a cruising speed of 14 knots.
At Leisure: Depending on the owner's specifications, the forward deck could have a helipad, a Jacuzzi and plenty of seating areas for meetings or parties. Alternatively, the water sporting-loving owner could choose to dock two jet skis and two tenders.
Most Notably: Frank Mulder has also worked on several designs including The World is Not Enough, the world's fastest superyacht.
Sleep: Up to 12 guests can sleep in the six elegant staterooms.
Own it: Nearly US$74m, available at Denison Super Yachts.
Polar Trotting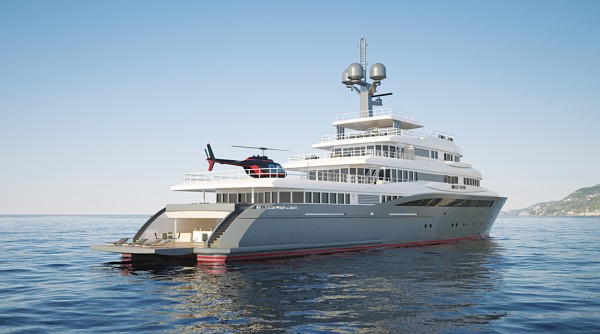 If reinforced with an ice class, the Columbus Global Explorer, ready for delivery in 2015, will be fully able to explore the furthest reaches of the world's oceans including its polar regions.
In Brief: At 72.5m, the Columbus Global Explorer is constructed by Columbus Yachts. Its solid construction ensures that the ship can handle various climates, even extreme conditions in the polar regions. The two diesel Caterpillar engines generate 2,682hp and allow the ship to reach top speeds of 18knots, with a regular cruising speed of 15 knots.
At Leisure: Dock your helicopter on the helipad, followed by an invigorating soak in the Jacuzzi and sauna. Onboard, facilities would include a movie theatre, wine cellar, beach club, swimming pool and gymnasium.
Most Notably: The Columbus Yachts 40s Hybrid won the ShowBoats Design Awards 2014 in interior design, environmental protection and holistic design.
Sleep: One master cabin, one VIP suite and five guest cabins can accommodate 14 guests.
Own it: At US$68m, the Global Explorer is available at Denison Super Yachts.
Luxury Toys
Opulent Crafts
Pair your superyacht with the most decadent accessories, such as the US$4.97m Aeroboat by Claydon Reeves, which was inspired by the British World War II fighter plane, the Spitfire. It contains a powerful Merlin V12 engine with bespoke gearbox and final drive that can reach up to 2,600hp and speeds of more than 75kts. Its design is inspired by the original plane, using modern automotive features while retaining carbon fibre, Kevlar and lightweight wood veneers.
Launched at the Monaco Yacht Show this year, the Triton Subs' Triton 1000/3 LP is touted to be the world's lightest and super compact three-passenger submersible (priced at US$3.15m) at just 3,475kg. The submersible can seat a pilot and two passengers, taking them to depths of 1,000ft. Its compact size and weight is achieved by a forward acrylic and rear steel hyper-hemisphere, using smaller spheres and reducing the need for a large external frame. It is thus possible to load the submersible onto superyacht tender garages without needing to majorly refit the garages.
For a light landing craft that takes up barely any space when not needed, Superyacht Tenders and Toys, the creators of the largest inflatable slide in the world, have released the Inflatable Landing Craft (priced at US$32,293). When inflated, the craft measures 5.53 by 2.76m and can be packed down to just 1.6 by 0.7 by 0.4m without the engine. It's perfect for carrying supplies or dive gear, watersports or even beach landings.
Customised Leisure
Furnish your yacht with the most luxurious accessories, such as Versace china, luxury beddings, bath towels, blankets and throws from Elite Yacht Linen. This company, which has supplied to numerous yachts, also allows for customised embroidery and made-to-measure linens and towels, so they'll fit perfectly in every room.
A clear attention-grabber has to be the inflatable climbing wall released by Green Yachts, which can be customised to fit the dimensions of the superyacht. Guests can make their way up the rock wall via three different routes designed by rock climbers, to accommodate different difficulty levels. Prices for the climbing yacht and the linen are upon request.
Top 5 Most Lavish Fittings
We reveal the most luxurious fittings that billionaire superyacht owners have fitted their crafts with.
An intruder detection system, which detects cameras and blocks photos using light.
24k gold embellishments
15ft glass used as a movie screen
Sonic guns to burst attackers' eardrums and water cannons to sink a boat 100yds away
A wall that transforms into a private verandah
25% – How much Wealth-X CEO Mykolas Rambus expects the Ultra High Net Worth spending on superyachts to grow by 2020. It will reach US$16.3bn.
3 to 5% of the 199, 235 super rich in the world own or regularly use a superyacht.