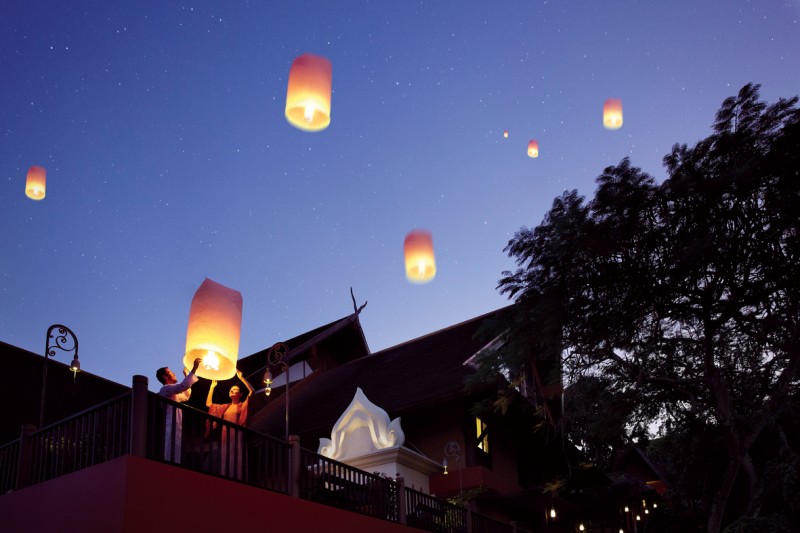 Angela Miller revisits the Land of Smiles to unearth some of its best hidden gems.
---
While cherishing a long-held passion for Thailand and its dynamism, my husband and I were searching for a tailored experience that would reveal a different side to the beloved country. Quintessentially Travel created a thrilling multi-destination itinerary that included helicopter and private jet transfers, gourmet and unique dining options paired with the best cultural sights of Thailand.
Jetset Travels
A local Quintessentially representative met us at the airport and guided us to the helipad, where a helicopter was waiting to send us to The Peninsula Bangkok, the only hotel in the city to have a helipad. The panorama of downtown Bangkok was rather contrasting, the gold-adorned tips of the pagodas mixed with ultra-modern skyscrapers. It took mere minutes to reach The Peninsula. We were then escorted to the riverside, and transferred to a rice barge that will take us to The Siam hotel, our home for the next three nights. The hotel's signature Thai restaurant, Chon Thai is the site of three century-old Thai teakwood houses that have been visited by Jackie Kennedy, John Rockefeller, Roger Moore and Henry Ford.
Such luxurious and unique travel options were a mainstay throughout our trip. Since we needed to travel to four different locations in just 10 short days, we figured chartering private helicopters and jets would be extremely necessary, and most importantly to keep our sanity intact. 
Classically Thai
A vintage automobile picked us up, a sign that we were about to be transported back into the past, perhaps. We zoomed down the (thankfully) slightly less congested streets to the Royal Ground Field, used as a royal cremation ground and also for the Royal Ploughing Ceremony and the Ceremony of Calling the Rain. The 30ac site has been listed by Royal Decree as a historical site since 1977. As part of the tour back to the 1980s, we also headed to the famous jazz club Brown Sugar: The Jazz Boutique. Opened in 1985, it has cultivated a reputation as one of the best jazz clubs in Bangkok, having a repertoire and famous jazz musicians performing here. Its new, more cosmopolitan location at Phrasumen Road now includes a 200-seater space on the second floor for private events or exhibitions. The cocktail menus include unique drinks like Brain Hemorrhage, Tequila Sunset and Pandanus Wheat Grass.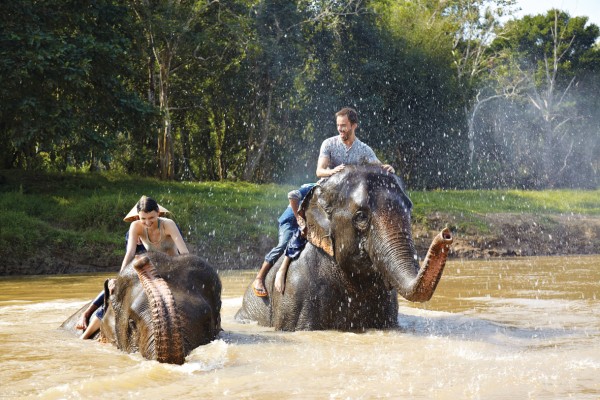 We'd heard great things about the elephant camp at the Anantara Golden Triangle Elephant Camp & Resort, and were eager to try it for ourselves. We began with the private signature Mahout Experience (about US$184 per person), where we changed into the basic mahout uniform with flip flops and were educated on the basic commands to drive an elephant. I was amused to know that these commands were a mix of pure Thai, northern Thai and an elephant language. I managed to guide my elephant, with a lot of help from my mahout into the river for its bath time, where the command bone (spray) was liberally used.
The city also holds the most sacred temple in Thailand, on a mountain. The Wat Phra That Doi Suthep is best visited, at least in our opinion in the late afternoon, after the tourists have mostly dispersed. Our guide expounded the tales behind the temple, including the White Elephant Legend, where a white elephant apparently carried a piece of the bone relic up the mountain, Doi Suthep and trumpeted three times before its death. We marvelled at the complexities of crafting the various pagodas, statues and bells, especially in the copper plated chedi, said to be the most holy area of the temple grounds. Our viewing was complemented by the monks' evening chanting. Not surprisingly, the temple's strategic point also yielded fantastic views of Chiang Mai, the evening lights glimmering over the city as the sun slowly set.
Memorable Eats
High on our list of priorities was food, of course. In Bangkok, Quintessentially recommends Issaya Siamese Club, which is one of Asia's 50 Best Restaurants 2014 and has been visited by celebrities like Ryan Gosling, Eva Mendes, Kenzo and Dita Von Teese. Here, guests can try some of celebrity Chef Pongtawat "Ian" Chalermkittichai's signature dishes, including the Massaman Curry Lamb Shank (about US$22). We loved how the lamb was amazingly tender and fell off the bone. Its buttery and rich flavour perfectly complemented the curry, which was slightly sweet with a touch of cinnamon. The restaurant also showcases the garden where Thai herbs are grown year-round.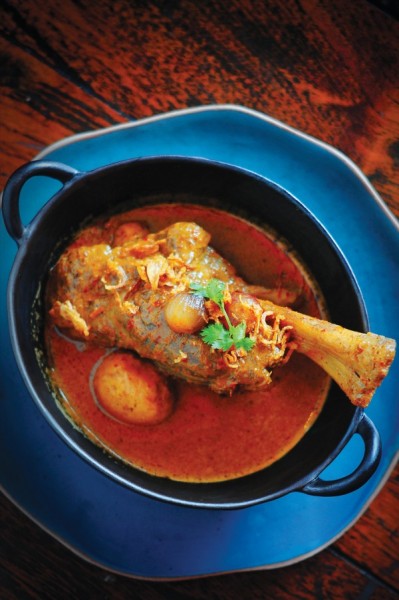 The award-winning Sirocco restaurant in Lebua Bangkok features authentic Mediterranean fare in the world's largest all open-air restaurant on the 63rd floor. We had the tasting menu, which is a must try, as it features a Wagyu beef tenderloin served with beetroot, charcoal grilled leeks, glazed pearl potatoes and a shimeji reduction. This was perfectly paired with a G.H. Mumm Brut Rosé champagne, though it had seemed an unlikely choice at the time. Post-dinner, we retreated to the award-winning Sky Bar, on the same floor, and were immediately drawn to its island bar that changes hues ever 30s. It also serves Hangovertinis that were specially created for the cast of The Hangover Part II and has since become their signature drink.

Our delight with our short stint as a mahout at Anantara Golden Triangle prompted us to try another elephant-themed expedition. The Dining by Design team, together with the chefs, packed us a delightful picnic basket (about US$ 184) and we set off into the jungles to an entirely secluded spot on the backs of the elephants. Through the shrubbery we were amazed to discover the sensational scenery of the Golden Triangle. To complete our pachyderm immersion, we just had to try the most expensive coffee (about US$55 per pack per person) in the world – Thai Arabica beans which are digested and deposited by the elephants. The individual beans are then handpicked by the mahouts and their wives –to our bemused disgust- and are sundried and then freshly roasted at the table. I found the taste to be rich, with a nutty taste that was rather flavourful.
Thankfully, that was by far the most exotic thing we had to try, since we'd stressed strongly that we would prefer not to ingest any interesting creatures in the name of adventure. Instead, we embarked on a street food tour in Chiang Mai with Yui, our delightful food guru, from A Lot of Thai, who reportedly has struck up a friendship with celebrity chef Gordon Ramsay.
At SALA Samui Resort and Spa, located on the pristine Choeng Mon beach on the northeast corner of Koh Samui, be treated to award-winning dining in the Beach Restaurant, Wine Cellar, Pangaea and the Beach Bar. We loved the menu devised by Executive Chef Nick Hall, that included an impressive seafood platter (about US$88) comprising a Maine lobster, salmon, scallops, king prawns and sea bass. Our particular favourites however had to be the Isigar & Irisa (about US$31 per person) set menu, a culinary display of the best Thai classics from all over the country. These included the Popia Ped, deep-fried duck spring rolls with hoi sin sauce, aromatic beef cheek curry paired with potatoes and crisp shallots, wok fried kale with crisp pork belly and an assortment of Thai desserts. The perfect finish to our dinner was a bottle of Krug Grand Cuvee (about US$514). For guests wishing to have a more private dining experience, we recommend dining on the beach (about US$122) or waking up to a champagne breakfast (about US$118).
Glorious Diversions
Should you not be pressed for time like we were, we recommend extending your stay to experience more of the Land of Smiles. Following in the footsteps of celebrities like Heidi Klum and Dolph Lundgren, hire a luxury yacht from Andaman Cruises by Twinpalms Phuket. A three-day, two-night charter of the MY Mayavee 60 (up to US$22,262) will provide guests with an expert crew, views of gorgeous sunsets and travels to some of the most famous Thai islands such as the Racha Islands. It's known to be Phuket's best known scuba diving site as there are various spectacular coral forests. In the thrillingly clear and aquamarine waters, observe the various stag horn corals, false barracudas, octopus and cuttlefish at depths of up to 35m. After admiring the beauty of the sea creatures, surface and freshen up in the yacht, and then feast on a sumptuous seafood (what else?) dinner, with French Fine de Claire oysters, caviar with blinis and vodka, and a Phuket lobster grilled with garlic butter (about US$218 in total).
We'd also recommend Phuket for its host of luxurious accommodations, including Kata Rocks' four-bedroom Sky Villa Penthouses, with 460sqm of space, amazing ocean views, BBQ kitchen and 10m long private infinity pool. Dine with your guests in the villa or view glorious sunsets over Kata Point at the Kata Rocks Bar.
Sublime Sleeps
Bangkok: The 120sqm Pool Villa Riverview at the Siam Hotel for absolute privacy, with internal gardens, private swimming pool and open-air roof terrace.
Chiang Mai: The Villa at Howie's HomeStay, designed by Bill Bensley. The entire property was available just to us.
Luxurious Treats
Book through the revamped resort websites of Thavorn Hotels and Resorts and unlock exclusive special offers. These include booking special dinners like a Surf & Turf BBQ (about US$56 per person per night), airport transfers (about US$37) and a premium exclusive spa bundle for two (about US$165 per person per night) at the Thavorn Beach Village and Spa in Phuket.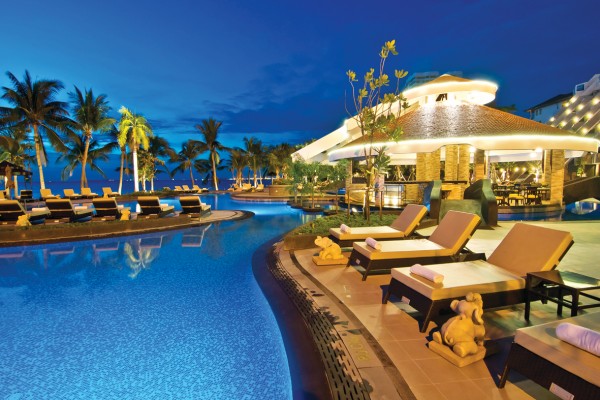 At Royal Wing Suites and Spa in Pattaya by Royal Cliff Hotel Groups, ladies can enjoy the Ladies Privilege package (about US$437 for twin sharing in a Royal Wing Suite), starting with a wine and cheese reception, an in-suite healthy breakfast, aromatherapy oil massage, a complimentary activity such as Thai boxing or a yoga class and an afternoon tea at La Ronde. A pillow menu, selection of women's magazines in room and a daily platter of homemade pralines will round up the numerous treats in the package.
This itinerary was modified from an 11-day itinerary created by Quintessentially Travel. Prices start from US$103,092 for two persons. For more information on how to book this trip, please contact Quintessentially Travel on +44 (0) 20 7022 6560 or email info@quintessentiallytravel.com.