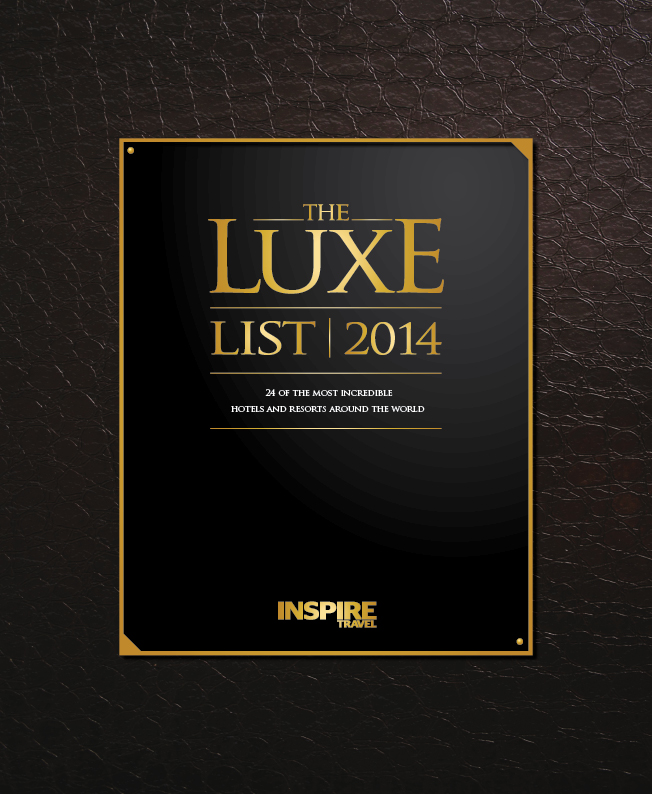 Revealing our 24 picks of the best hotels and resorts around the world  [Read more…]
Revealing the outstanding winners of the best hotels and resorts in the world
---
FINEST BUSINESS HOTEL
Winner: Four Seasons Hotel Pudong, China
This 187-room hotel is located in Lujiazui, Shanghai's key business centre and walking distance to world-renowned shopping and entertainment centres for delegates to unwind after meetings. It offers 805sqm of meeting spaces, such as a divisible ballroom that can host up to 500 people, four smaller salons and a foyer for pre-event cocktails. Business travellers' hotel rooms will be setup with a comprehensive mobile office, supplemented with a multilingual concierge team and 24-hour business centre.
Runner Up: Hotel Gran Mahakam, Indonesia
At the crossroads of the business and commercial district in Jakarta, Hotel Gran Mahakam is a 35min drive from the Soekarno-Hatta International Airport and a short distance away from department stores, shops, restaurants and entertainment outlets. The hotel has 10 diverse meeting spaces to accommodate eight to 1,200 persons.
---
TOP GOLF RESORT
Winner: The Westin Mission Hills Golf Resort & Spa California
The association with legendary golfers begins with the location of the resort, in between Bob Hope and Dinah Shore drives and continues on to the championship golf courses designed by renowned golfers Pete Dye and Gary Player. In classic 'Diabolically Dye' fashion, Pete Dye has created one of the area's most stunning and yet toughest courses, with rolling fairways, water hazards and four sets of tees on the 6,706yd, par 70, award-winning championship course. The Palm Springs area's only Gary Player–designed course can also be found here, where the 7,062yd, par 72 course was created to integrate seamlessly with the desert landscape.
Runner Up: Constance Belle Mare Plage, Mauritius
Tee off at one of the most perfect greens in this part of the world, with two 18 hole golf courses to choose from, facing the Indian Ocean with a stretch of pristine white beach. The Legend Golf Course was designed by South African golfing champion Hugh Baiocchi and the Links Golf Course by Rodney Wright and Peter Alliss.
---
MOST REJUVENATING SPA RESORT
Winner: Capella Singapore
Capella Singapore sits in Sentosa Island facing the South China Sea and surrounded by a lush green rainforest, thus creating a restful atmosphere to pamper oneself. The award-winning Auriga Spa uses natural and organic products from The Organic Pharmacy in their unique treatments and specialised programmes. Its facilities include a traditional Asian therapy and two couple suites, Herbal Steam Room, an ice fountain, an Experience Cold Shower and Warm Shower.
Runner Up: MesaStila, Central Java, Indonesia
Winner of the Best Destination Spa in Indonesia 2012 from the World Luxury Spa Awards, MesaStila is a refuge of calm in a Javanese coffee plantation, with 22ha of lush gardens and amazing scenery of eight volcanoes, lush plantations and jungles.
---
TOP PRIVATE ISLAND RESORT
Winner: Laucala Island, Fiji
The pearl of the South Seas occupies 12sq km of space, with 25 residences to ensure maximum privacy. It awards guests with stellar views across the island and also a truly authentic travel experience with its own farm that supplies vegetables and poultry, adding a rustic charm to the island.
Runner Up: Guana Island, British Virgin Islands
Located where the Atlantic Ocean meets the Caribbean, Guana Island offers guests pristine island settings with 344ha of natural island beauty, set against perfect turquoise waters, ideal for swimming or snorkelling.
---
BEST FAMILY HOTEL
Winner: Desert Islands Resort & Spa by Anantara, Abu Dhabi
The hotel is located on a luxurious, natural island on Abu Dhabi, offering travellers a unique escape with opulent accommodation. It is accessible by scheduled regional jet service from Abu Dhabi's airport on even-numbered days, bringing guests to the resort in just 25min (price from US$68 per person per way).
Runner Up: Nusa Dua Beach Hotel & Spa, Indonesia
The hotel is spread over 9ha with tropical gardens and sun-drenched shores, evoking the elegance of a Balinese palace while incorporating modern amenities and convenience.
---
MOST SCENIC HOTEL
Winner: Solitaire Lodge Rotorua, New Zealand
The lodge offers guests incredible peace and solitude, an opportunity to view one of the many picturesque sites in New Zealand. Here, spot a black swan idly gliding through the tranquil, intensely blue Lake Tarawera, or be awed by the majesty of the Mount Tarawera bordering the lake.
Runner Up: Kayumanis Ubud Private Villas & Spa, Bali
Tucked away between cinnamon tree groves, a tropical forest and with the Ayung River nearby, Kayumanis Ubud's gorgeous natural surroundings will no doubt instill a sense of calm and serenity.
---
MOST LUXURIOUS HOTEL
Winner: The Mulia, Indonesia
Apparent from the marble walls that graciously furnish the lobby, The Mulia is certainly the epitome of luxury, offering guests a myriad choice of accommodation within its complex. They can choose from 111 suites, 108 stand-alone hillside villas and 526 unique rooms and suites. The oceanfront hotel also contains a complex web of pools with accompanying cabanas, a large gym and spa, ballrooms and outdoor space suitable for meetings and events. Notably the Mulia Mansion presents guests with a dream hideaway that contains six bedrooms in a two-storey residence. Designed with a touch of gold and intricate jacquard detailing, the rooms exude a casual yet refined elegance.
Runner Up: The St. Regis Bangkok, Thailand
The St. Regis Bangkok is situated in a premier location along Rajdamri Road, near the business centre of the city. Most luxurious is their butler service, accommodating after-hour private dining by the pool and staging elaborate wedding proposals.
---
MOST CHIC ECO RESORT
Winner: Scarlet Hotel, England
Considerate of their impact on the environment, Scarlet Hotel England has taken steps to ensure that their carbon footprint remains light. These include recycling pretty much everything, such as leftover guest soaps, which are used as stain removers for the laundry, as well as reducing their water consumption, while removing tablecloths and replacing the towels in the spa with a lighter weight of 100 per cent fairly traded organic cotton. The hotel has also won the BKSA Best Eco Credentials 2012 and the Best Sustainable Hotel UK from the International Hotel Awards 2011.
Runner Up: Lefay Resort & Spa Lago di Garda
The resort was designed as a single compact building, with individual units built to fit the hill slope and its surrounding landscapes. Conscious of its impact on the environment, it faces the south, and its athermic glass windows insulate the rooms and spa from the heat and cold, while energy and water saving technologies and waste management measures have also been implemented.
---
MOST BLISSFULLY ROMANTIC HOTEL
Winner: Maia Luxury Resort & Spa, Seychelles
Surrounded by 12ha of gardens containing trees and herbs with spices like cinnamon and orchids, framed with azure blue skies and crystal clear waters, Maia Luxury Resort & Spa is a clear winner for a blissful and romantic getaway. Experience a romantic dinner cooked in the privacy of your own villa or on the beaches to be accompanied by the sounds of the lapping waves. The resort has won the Best Luxury Destination Spa Worldwide in the World Luxury Spa Awards 2012 and Indian Ocean's Leading Luxury Resort in the World Travel Awards 2010.
Runner Up: Diamonds Athuruga Beach & Water Villas, Maldives
Set on Athuruga Island, 20min away from the main island of Malé (by Maldivian Air Taxi), it is surrounded by a reef and a shallow lagoon, perfect for romantic getaways and to celebrate honeymoons. Follow the warm glow of candlelight down to the beach, where couples can dine in a circle of candlelight in specially decorated pavilions for maximum privacy.
---
TRENDIEST BOUTIQUE HOTEL
Winner: QT Sydney
The flagship hotel of the QT brand has been designed by architect Shelley Indyk. It's a contrast of two styles, the exterior restored to its former Gothic glory, while the interior takes guests to the present era and beyond with bold colours, bespoke furniture and LED digital art. The rooms are filled with an eclectic feel and each has a common element: the custom-made illuminative amber glass cabinet that can be found in each room, creating a warm glow and displaying amazingly designed crystal perfume bottles and decanters. Other unique design features include the miniature animal coat hooks.
Runner Up: The Thief, Oslo
This hotel, currently shortlisted for several awards, combines timeless elegance referencing contemporary art and design, with furnishings designed by Antonio Citterio, exclusive down duvets from HØlE, bathrobes from Maggie Wonka and wool blankets by Røros Tweed. Every room and suite features THIEF Art piece, handpicked by the curator, Sune Nordgren.
---
BEST HEAVENLY BEACH RESORT
Winner: The St. Regis Bora Bora Resort
Hailed by many to be the most beautiful island in the world, The St. Regis Bora Bora is possibly close to paradise on earth, with a lagoon of emerald and aquamarine hues, framed with tropical slopes and valleys with crimson hibiscus trees and palms. It is the only St. Regis hotel to have a Romance Concierge and bridal boutique with gorgeous bridal dresses for 'rent'. The resort has also won the SPG Member's Favourite Island Paradise award this year, as well as the Travel Professional Favourite Best Island Paradise award in 2012.
Runner Up: Lily Beach Resort & Spa Maldives
Its distinctive layout of overwater villas, with bright cerulean waters coupled with powdery white sand beaches, makes the resort a truly idyllic paradise to retreat to. Its house reef, just a short wade from the shore, teems with exotic fishes, while its location positions it within close vicinity of Maldives' best dive sites.
---
SWANKIEST GASTRONOMIC HOTEL
Winner:  Hotel Bel-Air, USA
Culinary Hall of Famer Wolfgang Puck's eponymous, award-winning restaurant at this hotel showcases his best modern Californian cuisine peppered with European and Mediterranean influences. The restaurant, bar and lounge uses only the freshest and most seasonal ingredients from the local farmer's market.
Runner-Up: InterContinental Hotel, Hong Kong
InterContinental Hong Kong is truly a gourmand's delight with acclaimed chef Nobu Matsuhisa's restaurant, two Michelin-starred SPOON by Alain Ducasse, one Michelin-starred Yan Toh Heen and THE STEAK HOUSE winebar + grill.